Hyper/Reality
A Group Show Including the Art of Aaron Wilder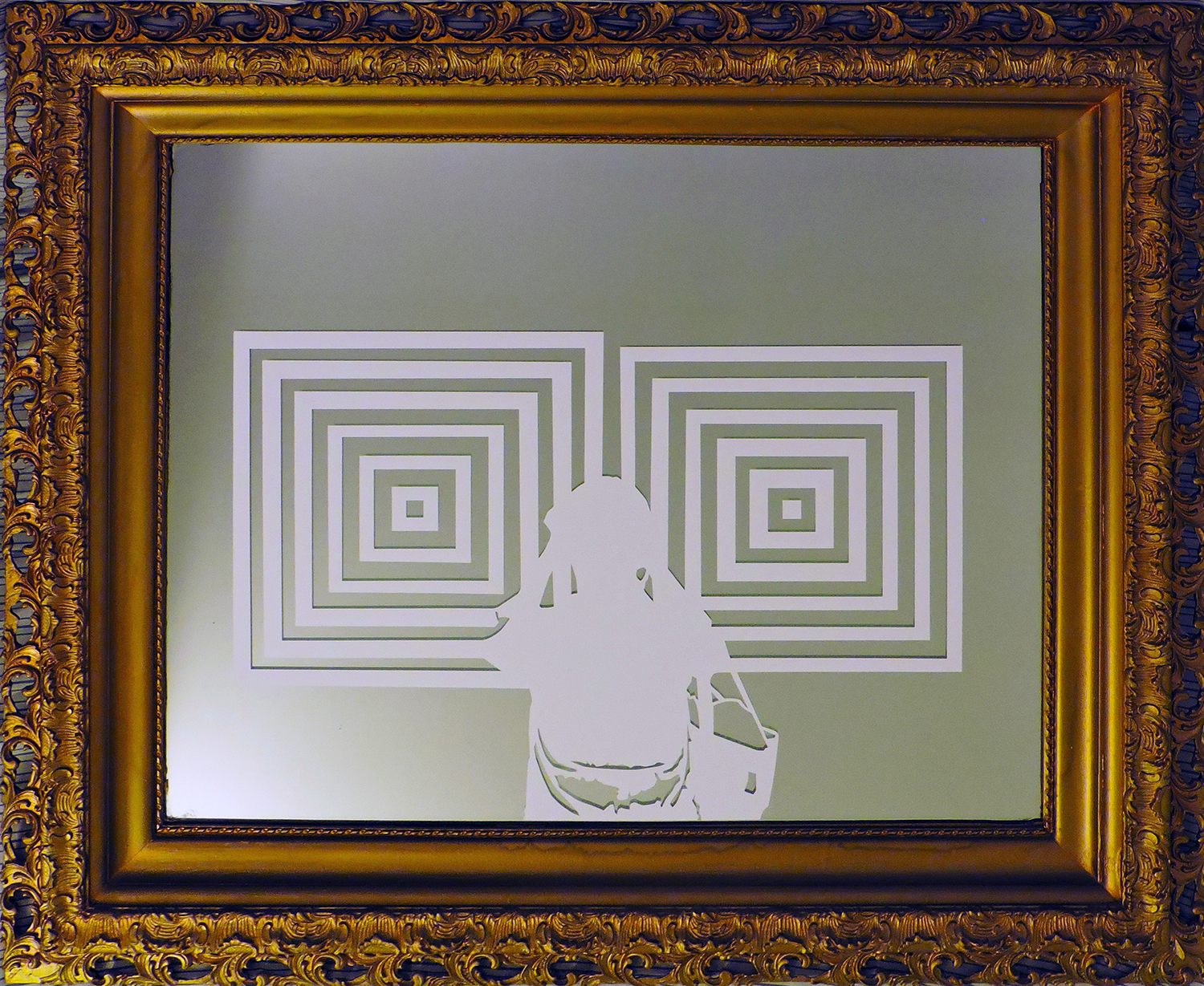 October 7-24, 2021

Opening Reception: Friday October 8, 6:00pm-9:00pm
Amos Eno Gallery

56 Bogart Street
Brooklyn, NY 11206
Hyper/Reality is an exhibition presented at Amos Eno Gallery that features works in dialogue with reality and its discontents. This exhibit lasts for three weeks and presents works by member artists who have yet to mount solo exhibitions at the gallery. This show is curated by gallery director Audra Lambert. Hyper/Reality, on view from Oct 7th through October 24th, features artworks by Ligia Bouton, Grant Johnson and Aaron Wilder.
Baudrillard's 20th century art criticism introduced the concept of the hyperreal, which marks the rising importance of the Simulacrum over reality. Hyper/Reality confronts the many ways in which the hyperreal has overtaken reality in the present day, delving into digital and wireless technologies that have pervaded our view of what is, and is not, 'real.' Works on view in Hyper/Reality present altered visions of the 'real,' as defined by the overlap of digital, natural and social phenomenon that permeate our everyday lives. Sculpture by Ligia Bouton embraces industrial materials while examining legends of the American "Old West," providing humorous evidence for how these myths are actually appropriated narratives. Works by Grant Johnson layer imagery of our surroundings while framing questions about how we experience and analyze these environments, probing what information may be omitted from our conclusions. New media, photography and installation work by Aaron Wilder asks us to reconsider narratives as political sites, asking how realities shift when they become co-opted, censored or re-interpreted in ways that may escape our notice.
In a world demanding that we accept often-conflicting realities and assimilate them into a universal worldview, Hyper/Reality shifts our focus away from the idea of truth, instead speculating on what it is that we take for granted, and exposing how it can be impermanent, faltering, and unreal.

Work from Aaron Wilder's The Art World, Details, and m4m projects is included in the exhibition:

The hallowed walls of the white cube art world are elevated and exclusive. They are protected by a barrier of theory and jargon the vast majority of human beings can't and won't understand. The Art World is a project documenting Aaron Wilder's journey into this world in 2015 when he moved to San Francisco in to pursue an MFA degree at the San Francisco Art Institute. Wilder sought to encounter and photograph human beings encountering art in the hallowed institutions of the art world and to investigate a variety of encounters between individuals and art, whether it be performance, painting, or other types of artistic expression. Most recently, Wilder has experimented with rendering the 35mm black and white film photographs from this project into monochromatic vinyl at either end of the grayscale spectrum and adhering these vinyls to the surfaces of ornate, antique mirrors.

Inspired by the Evidence collaboration between Larry Sultan and Mike Mandel as well as Sol LeWitt's PhotoGrids, Details is an exploration of zoomed in images of minutiae. It is an exploration of marks, patterns, and signs of weathering. These are details of human impact and manipulation cut off from context to emphasize the aesthetics of wear and tear that typically go unnoticed in our daily lives. In addition to individual photographs, Details also explores levels of granularity and the limitations of rendering minute details of details as visible through dissecting selected images into 121 individual sub-photographs printed as Instax prints and re-assembled as wall installations. While individual works in the Details series have no subtitles or otherwise identifying characteristics, video elements created for this project and their highly edited video/audio components were originally recorded by happenstance in a number of places ranging from the San Francisco Museum of Modern Art to the exterior of the 47th Street Red Line CTA Station in Chicago.

m4m is a project manipulating found images and text from Craigslist m4m personal ads in the US urban centers with the largest estimated populations of gay men. In these disoriented cities, interpersonal interactions are supplemented (if not replaced) by digital interactions. The resulting aesthetics show a web of ephemeral, over-saturated sales pitches where gay men can be free to present themselves in any way they choose. One can cling to the tropes of masculinity still celebrated in American society or take on an alter ego they feel unable to personify in their public life. Through the narcissism of the selfie, the intimacy fabricated through Craigslist, and the language used to define our sense of reality, this project seeks to explore both the beauty and the isolation of a small segment of gay culture in America. Seeking to neither reinforce hypersexualized stereotypes of gay culture nor glorify anonymous sexual activity, m4m is an exploration of merely one example of the broader trends of insatiable consumption, marketing-centric representation, and fragmented interaction within the contemporary digital moment. It is important to note that this project was started in 2016 and data gathering was completed in 2017. In early 2018, Craigslist shut off all of their personals pages in the United States in the wake of HR 1865 ("FOSTA") being passed by the US Congress. As such, this project represents a small time capsule of one way in which technology can influence and then eradicate modes of communication.
Hyper/Reality is curated by Amos Eno Gallery Director Audra Lambert. Lambert holds an MA, Art History and Visual Culture from Lindenwood University, with a BA in Art History and minor in Japanese from St. Peter's University. Her curatorial projects center Feminist and Queer art histories with an intersectional and intercultural lens. She has curated exhibits at the Center for Jewish History - Yeshiva University, Fountain House Gallery, The Living Gallery, Arsenal Gallery, Radiator Gallery, and others. She is curator-in-residence at The Yard, So. Williamsburg and Founder/Editor-in-Chief of ANTE mag, a platform for exhibition-making and art criticism in dialogue with artist-run projects.
Amos Eno Gallery is an artist-run nonprofit gallery and one of the longest-operating artist run spaces in New York City. Founded in 1974, the gallery is sustained by its members, and has an active annual programming schedule featuring visual arts, installations, new media, performance, lectures, and interactive activities. Amos Eno serves as an alternative, artist-run platform for professional artists in a variety of media. The gallery has been based in the East Williamsburg neighborhood of Brooklyn for more than ten years.