The Swell Gallery presents ZEITGEIST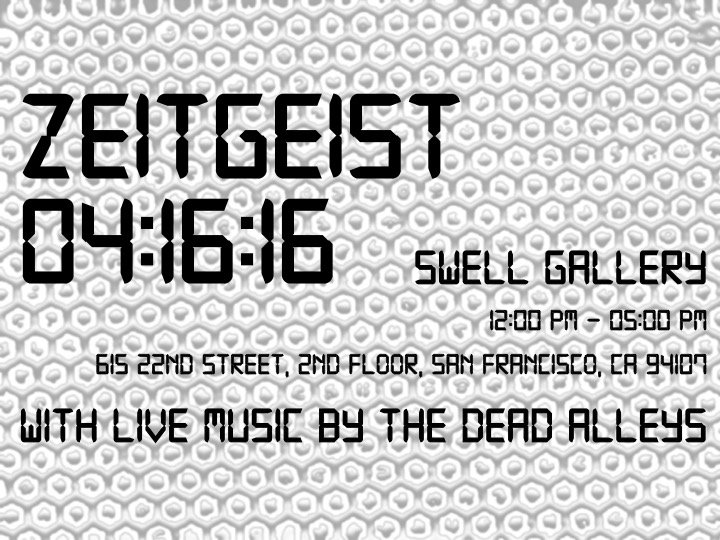 Saturday, April 16, 2016, 12 pm - 5 pm


Swell Gallery
2565 3rd Street, 2nd Floor
San Francisco, CA 94107
As a part of the San Francisco Art Institute Open Studios event, the Swell Gallery will be featuring the work of current graduate students with the name and studio location of participating artists. This way, visitors can check out the sample works in the Swell Gallery, then visit artists' studios to see more work they're interested in.
This year, the Swell Gallery's theme for its Open Studios show is Zeitgeist. Zeitgeist is the "spirit of the times" and can be seen as an artist's depiction or rejection of what she or he believes to represent our contemporary moment, now in 2016. The word Zeitgeist itself can be interpreted as a kind of phantom or immaterial force embodied within a period of time ranging from an age, an instant, or even a perspective on reality. Given the culturally and socially fragmented state of our world, participating artists were encouraged to exercise creative agency and interpretation of this theme.
The show will also feature live music by The Dead Alleys. The Dead Alleys is a cultural experiment performed in a dadaist fashion by Ana Montenegro and Kaitlin Trataris. Through their performance of songs they both appreciate and don't understand, they explore the way in which music is transformed, transferred and transversed when dislocated from its original context and/or language.