A Group Show Including the Art of Aaron Wilder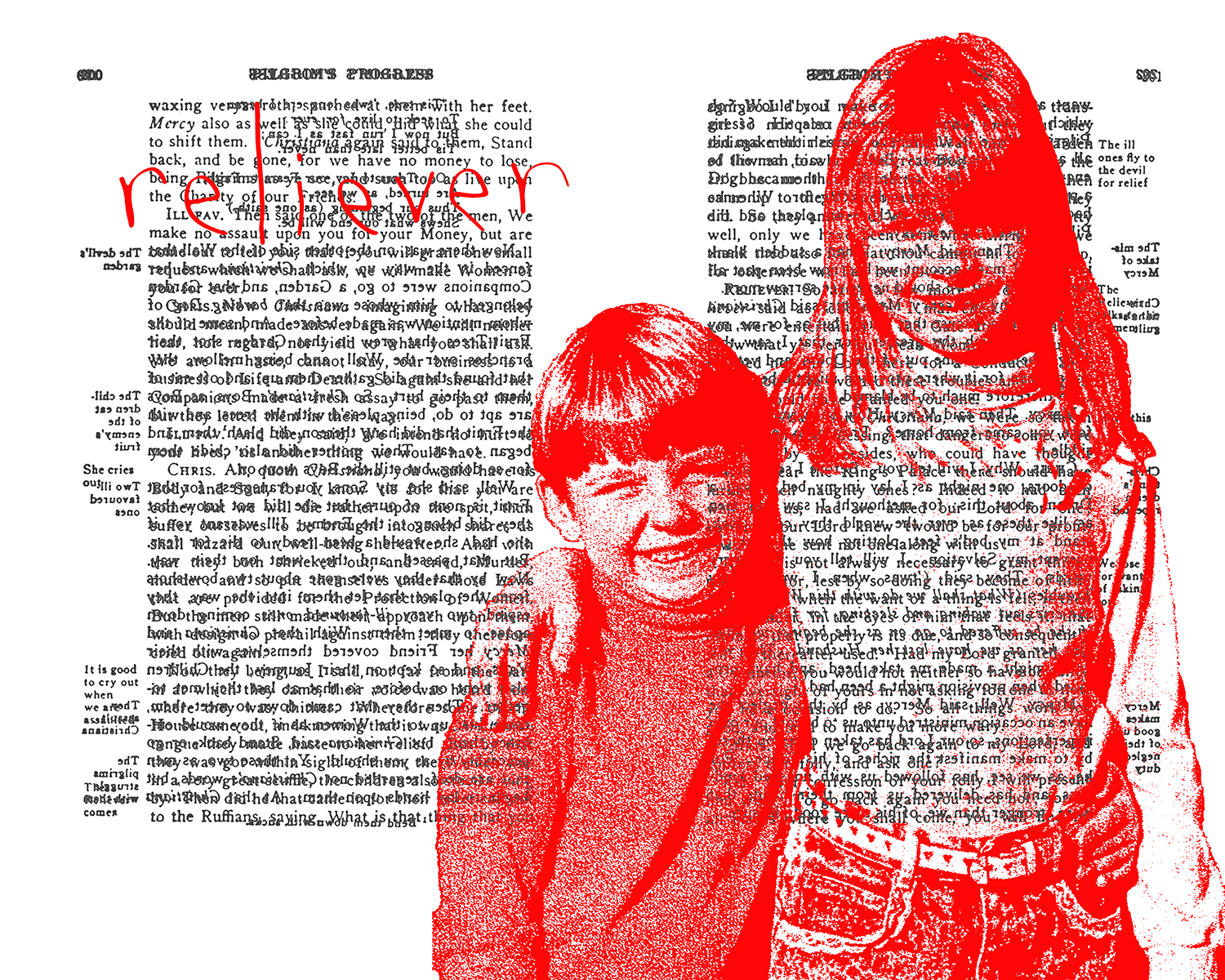 May 7-29, 2021

Opening Reception: Saturday May 8, 2021, 5:00pm-8:00pm
101 North Johnson Street

Woodstock, IL 60098
Together is a fine art exhibition that explores how the arts bring us together intellectually, emotionally, and in community through shared experiences, such as art events.

The exhibit will be in the Old Courthouse Arts Center, a 5,000 sq ft gallery located on Woodstock's historic square, NW of Chicago. You may recognize the square from the film Groundhog Day. 2021 marks the Old Courthouse Art Center's 31st anniversary.

Work from Aaron Wilder's Amends and Delivered Under the Similitude of a Dream is included in the exhibition:
Amends One and Amends Two were the result of a long-term project that began with a photograph Aaron Wilder took in 2007. Amends One was completed 4 years after the photograph was taken and Amends Two was completed another 2 years after that.
Delivered Under the Similitude of a Dream deconstructs pages from John Bunyan's 1678 book Pilgrim's Progress. The book is a heavily didactic tale of how to live your life as a Christian. It is used to indoctrinate children into evangelical Christianity. Names of characters from Bunyan's text are applied to images of Aaron Wilder as a child in non-chronological order to challenge the linear focus of aging. In doing so, Wilder applies the guise of 75 characters from Bunyan's book to himself at different points throughout childhood. This project explores the concept of layered authorship. Feelings of nostalgia for a lost childhood are uncomfortably juxtaposed to a rejection of prescribed life trajectories based on religion and morality.
About the Old Courthouse Arts Center:

The Old Courthouse was constructed in 1857, a classic brick structure designed by one of the country's most prominent architects, John Mills Van Osdel. The adjoining Sheriff's House & Jail was built 30 years later. After 115 years as the focal point of McHenry County government, the county outgrew the buildings in 1972 and the complex was to be demolished for a parking lot. But it was saved from the wrecker's ball by Woodstock residents Cliff and Bev Ganschow. The Ganschows bought the buildings and began an extensive renovation program completed for American's Bicentennial in 1976. Because of the buildings' architectural and historical significance, both the Old Courthouse and Sheriff's House & Jail are listed on the National Register of Historic Places.

Today the Old Courthouse complex is a proud landmark. Revival as the anchor of historic Woodstock Square (originally named Courthouse Square) for you and your family's and friends' enjoyment. Its entire three floors, totaling more than 30,000 square feet, are no occupied by unique restaurants, galleries and studios. Here you can still see the original pressed tin ceilings… impenetrable wooden jail doors…massive iron vaults with doors that are beautifully decorated with hand painted murals and floral motifs…election tallies recorded and preserved on a giant chalkboard…high arched doorways…an elegant winding stairway, and many other handsome vestiges of the 19th century which make the Old Courthouse complex a fascinating place to explore. The Woodstock Public House, which occupies the entire ground level floor, complements the authentic atmosphere with an All-America dining experience.
Over the years, the Old Courthouse and the Sheriff's House & Jail has witnessed a panorama of American life and history. One of the most famous prisoners was Socialist leader Eugene V. Debs, jailed here after the great Pullman strikes of the late 1800's. In the Roaring Twenties two of American's most notorious bootleggers, 'Dapper Dan' McCarthy and Ear Weiss served a stretch in the McHenry County Jail. In 1932 'Lone Wolf; Loftus, billed as America's greatest bank robber, was captured and jailed in Woodstock after authorities bad been trailing him for nearly three years. Another notorious gangster, Frank 'Red' McGee, sawed his way out of jail during the holidays leaving a farewell Merry Christmas note to the sheriff. The Jail's death cell was used only once, after a minor Chicago politician and all-around hoodlum murdered a Chicago alderman over a drink of whiskey. He was hanged in the Square in 1886, the only hanging ever in McHenry County.