Amos Eno Gallery proudly presents "Omission Rituals"
A Solo Exhibition of Art by Aaron Wilder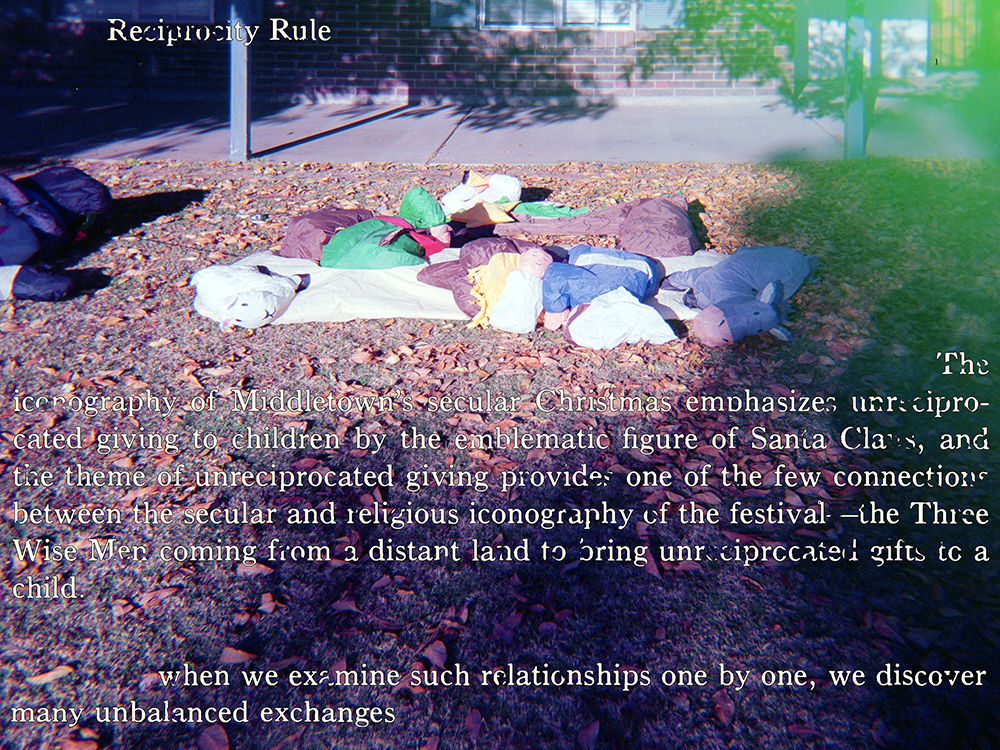 Image: Aaron Wilder, Season's Greetings: Many Unbalanced Exchanges (Rule Enforcement without Visible Means, Caplow, 1984), Inkjet Print from Digitally Edited Scan of 120 Film (Shot on a Holga), Academic Text, 30x40", 2022


January 5-29, 2023

Opening Reception: Friday 6 January, 6-8pm
Aaron Wilder & Katrina Majkut in Conversation with Art Critic Daniel Larkin: Friday 27 January, 6pm



Amos Eno Gallery

56 Bogart Street
Brooklyn, NY 11206
Amos Eno Gallery is pleased to present Omission Rituals, a solo exhibition unveiling new work by Aaron Wilder, as well as artwork from related projects over the last eight years, on view January 5 – 29, 2023. An opening reception will be held on Friday, January 6, 2023, 6:00-8:00 PM at the gallery's location in 56 Bogart Street in Brooklyn, NY, across the street from the Morgan Ave L train stop.
Due to a head injury resulting from a 2003 car accident, interdisciplinary artist Aaron Wilder's biological function of remembering has since been unreliable to the point where it becomes difficult to distinguish between memory's relation to fact and memory's relation to fiction. Since the accident occurred when he was 17 years old, most of Wilder's adult life has been trying to put back together what happened before the accident over the years comprising his childhood. As Wilder has aged, become more educated, and developed into the person he is today, it has become clearer that it is not solely the car accident that blurs his childhood memories. Growing up queer and closeted in a conservative environment and the tensions present in his broken home were likely far more impactful on Wilder's inability to remember than the car accident. In this exhibition, Wilder presents excerpts from six self-reflective, artistic inquiries into the intersections of memory, social construction, and ritualistic omissions that were created between 2015 and 2022.
A "social construct" is a social mechanism or category developed by society that forwards perception of an individual or group that is created culturally as opposed to biologically. Social constructs include gender, race, religion, and many other groupings that strongly impact an individual's sense of identity. These social constructs are perpetuated by how a child is raised, language and other communication practices, and visible signs including advertising, popular culture, and education. An "omission" is an intentional exclusion of someone or something. As Wilder reflects on experiences of exclusion, he uses (in)visibility and concealment as artistic strategies and creates artwork in mediums including collage, drawing, installation, photography, and sculpture that to varying degrees withhold information viewers may expect or desire. A "ritual" is a series of actions performed in a defined sequence. While rituals are often derived from one's culture and/or religion, Wilder's rituals are personal investigations into memory, social constructs, and identity.
In Expletive, Wilder employs vividness, repetition, and the form of text in various mediums to disempower slurs used everyday by obscuring the words through the stacking of its letters on top of each other. What remains is an aesthetic and geometric arrangement of shapes that is not easily read. Wilder uses obscured text in two other displayed projects. Delivered Under the Similitude of a Dream uses scanned overlapping pages from John Bunyan's 1678 book "Pilgrim's Progress," a heavily didactic tale of how to live your life as a Christian. Names of characters from Bunyan's text are applied to images of the artist as a child. This project explores the concept of layered authorship where feelings of nostalgia for a lost childhood are uncomfortably juxtaposed to a rejection of prescribed life trajectories. In Wilder's newest project, Season's Greetings, the overlapping layers of social constructions embedded in Christmas are peeled back through photographs of holiday decorations, shot on a Holga "toy" camera, paired with text fragments from academic journal articles.
In Where is Home?, Wilder uses the same Holga "toy" camera known for its distortions ranging from blur to light leaks to photograph buildings and other aspects of physical geography from his past that used to hold meaning, but now feel distant. By taking these photographs years after his attachment to those places has faded away, Wilder seeks to invoke feelings forgotten and memories blurred. Blur also plays an important role in Wilder's Imaginary Friends project that uses stuffed animals as stand-ins for himself in a range of scenarios. Each scenario is printed in the darkroom three times with an increasing amount of blur from the enlarger being taken more and more out of focus. Also using children's toy's, Wilder's Neither Sand nor Rock project explores the (de)construction of personhood between childhood and adulthood by mixing black and white analog landscape photographs with color digital photographs of toy building blocks at various stages of (in)completeness. These projects interrogate both the fraught relationship between photography as a medium and the expectations of it relating to remembering and the ritualistic use of revisitation and repetition to bolster remembering.
Concurrent with Wilder's Omission Rituals on display in the main gallery, artist Katrina Majkut's solo exhibition Fair Play will be on display in Amos Eno Gallery's project space. Fair Play explores the gender politics, capitalism, and worship-system of baseball cards. An in-person discussion in the gallery between artists Katrina Majkut and Aaron Wilder will be moderated by art critic and Hyperallergic contributor Daniel Larkin on Friday, January 27 at 6:00pm.
Artist Bio
Aaron Wilder is an interdisciplinary artist and curator originally from Phoenix, Arizona. He has also lived in Chicago, Los Angeles, San Francisco, Washington, DC, and France and currently resides in Roswell, New Mexico. With the history of being a self-taught artist since 2002, Wilder received his MFA from the San Francisco Art Institute in 2017. He has exhibited his work extensively across the United States as well as in Italy. Wilder's curatorial practice organically grew out of his artistic practice starting in 2009 and he is currently Curator of Collections & Exhibitions at the Roswell Museum. Omission Rituals is Wilder's first solo exhibition at Amos Eno Gallery after joining as an artist member in 2020. For more information, visit aaronwilder.com.
About Amos Eno Gallery

Amos Eno Gallery is an artist-run nonprofit gallery and one of the longest-operating artist run spaces in New York City. Founded in 1974, the gallery is sustained by its members, and has an active annual programming schedule featuring visual arts, installations, new media, performance, lectures, and interactive activities. Amos Eno serves as an alternative, artist-run platform for professional artists in a variety of media. The gallery has been based in the East Williamsburg neighborhood of Brooklyn for more than ten years.