The Roswell Museum
proudly presents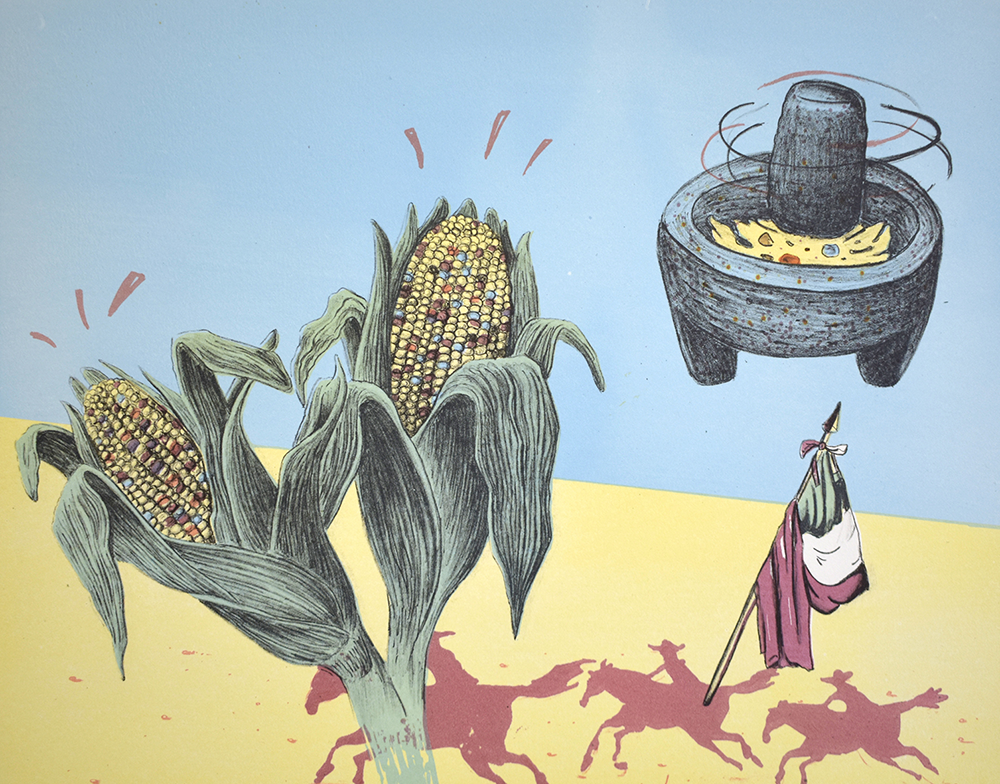 Juana Estrada Hernández, Maíz is Who You Are, Who We Are, 2022, Lithograph on Paper, Courtesy of the Artist
Juana Estrada Hernández, El maíz es quién eres, quiénes somos, 2022, Litografia sobre Papel, Cortesía de la Artista


ENGLISH:

September 23-December 17, 2023

Artist Talk and Reception: Friday, September 22, 5:30-7 p.m.



Donald B. Anderson Gallery

1011 North Richardson Avenue

Roswell, NM 88201



Juana Estrada Hernández channels her experience growing up as an immigrant in the United States into drawing and print media that address political and social issues pertaining to communities of Latinx migrants. Mexican culture and folklore, pop culture, and her family's migration stories inspire her artistic output. Her solo exhibition entitled Las semillas, el sol, y los que sacaron a delante / The seeds, the sun, and those that brought me forward is on display in the Roswell Museum's Donald B. Anderson Gallery from September 23 to December 17, 2023.
The human-fabricated boundary between Mexico and the United States nevertheless has very real impacts on people and communities. Estrada Hernández's displayed works are a combination of memories, treasured cultural traditions, and a celebration of her family's resilience. The decision to leave everything you know behind in pursuit of a glimmer of hope for a better life for yourself and your children is one of the most difficult and risky endeavors one can undertake. At the crux of this migration is the steadfast belief in defining what, not where, a home is by following a strong sense of internal navigation. Estrada Hernandez's newest works celebrate this dedication of both pride in and preservation of one's culture as well as a refusal of assimilation and erasure. "I highlight the importance of holding on to one's own culture as a method of resistance, pride, and celebration," the artist has said.
As someone in the precarious situation of tentative legal status in the ever-intensifying tempest of political fluctuations around US immigration policy, the artist knows first-hand what it is like to have what is political dictate many elements of what is personal. Estrada Hernández is a recipient of DACA (Deferred Action for Childhood Arrivals), a US immigration policy providing administrative relief from deportation and work permits for some immigrants who arrived as minors without legal resident status. Used simultaneously as a target and bargaining chip by rival political parties, DACA recipients have no sense of stability as a pathway to citizenship is not guaranteed and their tentative status could be revoked at any moment, resulting in being deported to countries they barely remember. "As a Daca-mented artist," Estrada Hernández says, "I accept the responsibility to use my artwork and voice to advocate for and expose my audience to social-political issues that impact my community."
Juana Estrada Hernández was born in Luis Moya, Zacatecas, Mexico. She received her BFA in Printmaking from Fort Hays State University in Kansas in 2018 and her MFA from the University of New Mexico in 2021. After teaching printmaking at Fort Hays State University for the past two years, Estrada Hernández will be moving to the East Coast to teach at the Rhode Island School of Design as Assistant Professor of Printmaking in the 2023-2024 academic year.
She has exhibited her work across the United States and internationally at venues including 516 ARTS in New Mexico, Ardent Gallery in the United Kingdom, Ateliers Engramme Art Center in Canada, the Bancroft Street Market in Nebraska, the Cleveland Art Institute in Ohio, El Arsenal de la Marina in Puerto Rico, the El Paso Museum of Art in Texas, Hecho a Mano Gallery in New Mexico, Janet Turner Print Museum in California, the Los Angeles Printmakers Society in California, the National Hispanic Cultural Center in New Mexico, the National Museum of Mexican Art in Illinois, Oklahoma City University, the Print Center of New York, the Rocky Mountain Printmaking Alliance in Utah, the Rubin Center for the Visual Arts in Texas, the Santa Fe Art Institute in New Mexico, Sarah A. Coyne Gallery in New York, SG Gallery of Scuola Internazionale di Grafica in Italy, Tamarind Institute in New Mexico, Through This Lens Gallery in North Carolina, the University of Hawaii, the University of Montana, the University of New Mexico Art Museum, and Utah State University, among others.
Estrada Hernández's accolades include being the recipient of a Fulcrum Fund Grant from 516 ARTS in New Mexico; residencies at Bucknell University in Pennsylvania, Chicago Printmakers Collaborative in Illinois, Megalo Print Studios in Australia, and Zygote Press in Ohio; and participation in El Primer Encuentro Binacional de Mujeres Artistas Visuales Programa (The First Binational Meeting of Women Visual Artists Program) co-organized by the Museum of Latin American Art and the Ministry of Culture of Baja California, Mexico. Her work is in numerous collections, including the Bernard A. Zuckerman Museum of Art in Georgia, the National Library & Archives of Quebec in Canada, the Samek Art Museum in Pennsylvania, the University of North Texas, and the University of Wisconsin-Madison, among others.
Her show Las semillas, el sol, y los que sacaron a delante / The seed, the sun, and those that brought me forward at the Roswell Museum is the artist's first solo exhibition at a museum since receiving her MFA. There will be a few opportunities for visitors to engage with the artist about the concepts and materials with which she works over the course of the exhibition's opening weekend, September 22-24, 2023, starting with an artist talk at 5:30 pm on Friday September 22 followed by an opening reception in the gallery. For more information about the artist, visit juanaseemyprints.weebly.com and her Instagram page @juanaseemyprints.
- Aaron Wilder, Curator of Collections & Exhibitions



ESPAÑOL:


23 de septiembre – 17 de diciembre del 2023

Platica de artista y recepción: viernes, 22 de septiembre, 5:30-7 p.m.



Galería de Donald B. Anderson

1011 North Richardson Avenue

Roswell, NM 88201
Juana Estrada Hernández canaliza su experiencia creciendo como una inmigrante en los estados unidos en sus dibujos y medios de comunicación de impresos que comunica problemas políticos y sociales perteneciendo a los migrantes Latinx. La cultura mexicana y el folclore, cultura popular, y las historias migratorias de su familia han inspirado su producción artística. En su exposición monográfica titulada, "Las semillas, el sol, y los que sacaron a delante," que está en exhibición en el museo de Roswell en la galería Donald B. Anderson del 23 de septiembre hasta el 17 de diciembre del 2023.
La frontera fabricada por humanos que esta entre México y los Estados Unidos sin embargo a tenido impactos reales con personas y comunidades. Las obras de Estrada Hernández combinan memorias, atesorados en tradiciones culturales, y celebran la resiliencia de su familia. La decisión de dejar todo que uno conoce para ejercer una luz de esperanza para una vida mejor para uno y sus hijos es uno de los esfuerzos más difíciles y arriesgados que puede uno emprender. En el quid de esta migración esta una creencia firme en definiendo que, pero no donde, está un hogar mientras uno sigue la interna sensación de navegación interna. Las obras más nuevas producidas por Estrada Hernández celebran la dedicación en el orgullo y la preservación de su cultura y su rechazo de asimilación y supresión. "Yo reafirmo la importancia de mantener la cultura de uno como un método de resistencia, orgullo, y celebración," ha dicho la artista.
Siendo una persona en una situación precaria de un estado legal tentativo durante una tempestad cada vez mas intensa de fluctuaciones políticas a cerca de pólizas migratorias estadounidenses, la artista sabe de primera mano que es tener lo político dictando muchos elementos personales. Estrada Hernández es una recipiente de DACA (Acción Diferida para los Llegados en la Infancia), una póliza migratoria estadounidense que proporciona alivio administrativo de la deportación y concede permisos de trabajo para algunos inmigrantes que llegaron como menores sin estado legal. Utilizado simultáneamente como objetivo y moneda de cambio por los partidos políticos rivales, recipientes de DACA no tienen una sensación de estabilidad a un camino hacia la ciudadanía porque ni es garantizado y su estado tentativo puede ser revocado a cualquier momento, resultando en deportación a países que ellos casi no recuerdan. "Como una artista DACA-mentada," dice Estada Hernández, "yo acepto la responsabilidad de usar mi arte y mi voz para propugnar y exponer mi audiencia a cuestiones sociopolíticas que impactan a mi comunidad."
Juana Estrada Hernández nació en Luis Moya, Zacatecas, México. Ella recibió su licenciatura en bellas artes en grabado de la Universidad Estatal de Fort Hays en Kansas en el 2018 y su maestría en bellas artes en grabado de la Universidad de Nuevo México en el 2021. Después de ensenar grabado en Universidad Estatal de Fort Hays durante los últimos dos años, Estrada Hernández se mudará a la costa oeste para ensenar en La Escuela de Diseño de Rhode Island como Profesora Asistente de grabado en el año escolar de 2023-2024.
Ella ha exhibido su arte a través de los Estados Unidos e internacionalmente en espacios, incluyendo 516 ARTS en Nuevo México, Galería Ardent en el Reino Unido, Ateliers Engramme Centro de Arte en Canadá, Mercado Bancroft Street en Nebraska, La Institución de Arte en Cleveland en Ohio, el Arsenal de la Marina in Puerto Rico, El Paso Museo de Arte en Texas, Galería Hecho a Mano en Nuevo México, Museo de Grabado Janet Turner en California, Sociedad de Grabado Los Ángeles en California, Centro Nacional de Cultura Hispana en Nuevo México, Museo Nacional de Arte Mexicana en Illinois, Universidad de Oklahoma City, el Centro de Grabado de New York, la Alianza de Grabado en las Montañas Rocky en Utah, el Centro Rubin de Arte Visual en Texas, Institución de Arte en Nuevo México, Galería Sarah A. Coyne en New York, Galería de la Escuela Internacional de Grafica en Italia, Institución Tamarindo en Nuevo México, Galería a Través de Este Lente en Carolina del Norte, la Universidad de Hawái, la Universidad de Montana, Museo de Arte de la Universidad de Nuevo México, y Universidad Estatal de Utah, entre otros.
Los elogios de Estrada Hernández incluyen ser recipiente del Fondo Fulcrum de 516 ARTS en Nuevo México; residencias en la Universidad Bucknell en Pennsylvania, Colaboración de Grabadores en Chicago en Illinois, El Estudio de Grabado en Megalo en Australia, Impresa Zygote en Ohio; y participación en El Primer Encuentro Binacional de Mujeres Artistas Visuales Programa coorganizado por el Museo de Arte Latinoamericana y el ministro de Cultura de Baja California, México. Su arte está en varias colecciones, incluyendo el Museo de Arte Bernard A. Zuckerman en Georgia, la Biblioteca Nacional y Archivos de Quebec en Canadá, el Museo de Arte Samek en Pennsylvania, La Universidad del Norte de Texas, y la Universidad de Wisconsin-Madison, entre otros.
Su exhibición titulada, "Las semillas, el sol, y los que sacaron a delante," en el Museo de Roswell es la primera exhibición monográfica en un museo desde que ella recibió su maestría en bellas artes. Habrá algunas oportunidades para visitantes para participar con la artista sobre sus conceptos y materiales que ella usará durante el fin de semana de apertura, 22-24 de septiembre, 2023. Empezando con la plática de artista el viernes, 22 de septiembre, a las 5:30pm, seguido por la recepción de apertura en la galería. Para más información sobre la artista, visita juanaseemyprints.weebly.com y su página de Instagram @juanaseemyprints.
- Aaron Wilder, Curador de Colecciones y Exhibiciones