Bath House Cultural Center Proudly Presents
" El Corazón"
A Group Show Including the Art of Aaron Wilder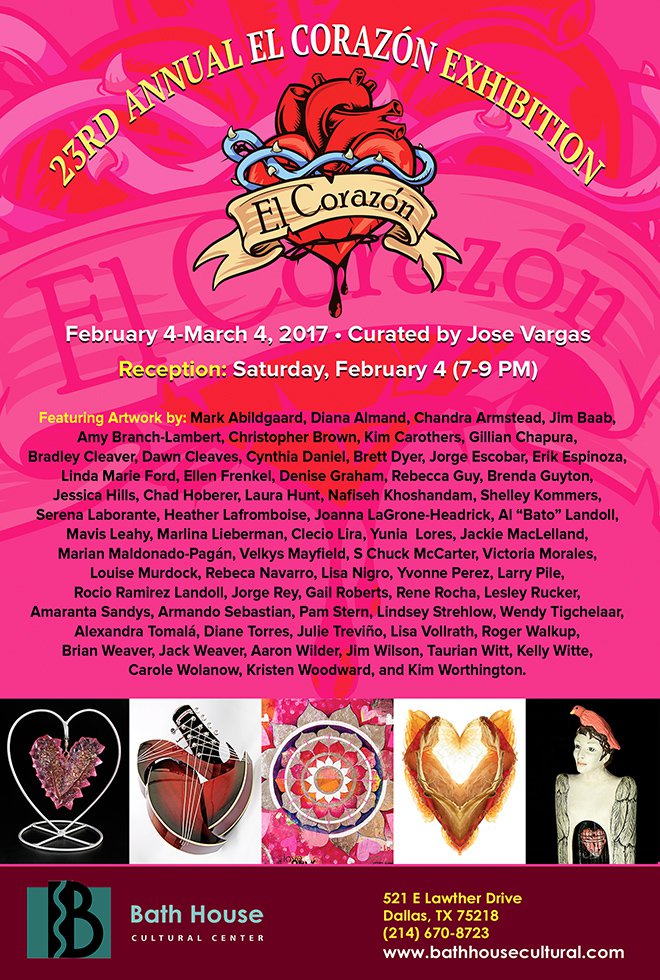 February 4-March 4, 2017


Opening Reception:
Saturday February 4, 2017, 7:00 – 9:00pm
521 East Lawther Drive
Dallas, TX 75218
214-670-8723


2017 marks the 23rd annual "El Corazón" art exhibition. Since1993, Jose Vargas has organized the "El Corazón" art exhibition in Dallas. This popular exhibition has become a beloved annual tradition at the Bath House Cultural Center. This passionate and eclectic exhibition features art that explores a variety of ideas, styles, and concepts inspired by the heart, an important and universal symbol in art.

One piece from Aaron Wilder's "Heart of a Fool" series is included in the exhibition. This project explores the concept of personal identity, including how we as human beings exhibit aspects of our inner selves while masking other characteristics. In this series, Wilder uses repetition and differentiation to convey different individual stories reflecting upon interpersonal relationships in a larger, cohesive intrapersonal narrative.
Featured Artists: Mark Abildgaard, Diana Almand, Chandra Armstead, Jim Baab, Amy Branch-Lambert, Christopher Brown, Gillian Chapura, Bradley Cleaver, Dawn Cleaves, Cynthia Daniel, Brett Dyer, Jorge Escobar,
Erik Espinoza, Linda Marie Ford, Ellen Frenkel, Denise Graham, Rebecca Guy, Brenda Guyton, Jessica Hills, Chad Hoberer, Laura Hunt, Nafiseh Khoshandam, Shelley Kommers, Serena Laborante, Heather Lafromboise, Joanna Lagrone-Headrick, Al Bato Landoll, Mavis Leahy, Marlina Lieberman, Clecio Lira, Yunia Lores, Jackie Maclelland, Marian Maldonado-Pagan, Velkys Mayfield, S Chuck Mccarter, Alberto Montilla, Louise Murdock, Rebeca Navarro, Lisa Nigro, Yvonne Perez, Larry Pile, Rocio Ramirez, Landoll Jorge Rey, Gail Roberts, Rene Rocha, Lesley Rucker, Amaranta Sandys, Armando Sebastian, Pam Stern, Lindsey Strehlow, Wendy Tigchelaar, Alexandra Tomalá, Diane Torres, Julie Trevino, Lisa Vollrath, Roger Walkup, Brian Weaver, Jack Weaver, Aaron Wilder, Jim Wilson, Taurian Witt, Kelly Witte, Carole Wolanow, Kristen Woodward, and Kim Worthington.