The Roswell Museum
proudly presents

Dina Perlasca: Campos de Fuerza / Force Fields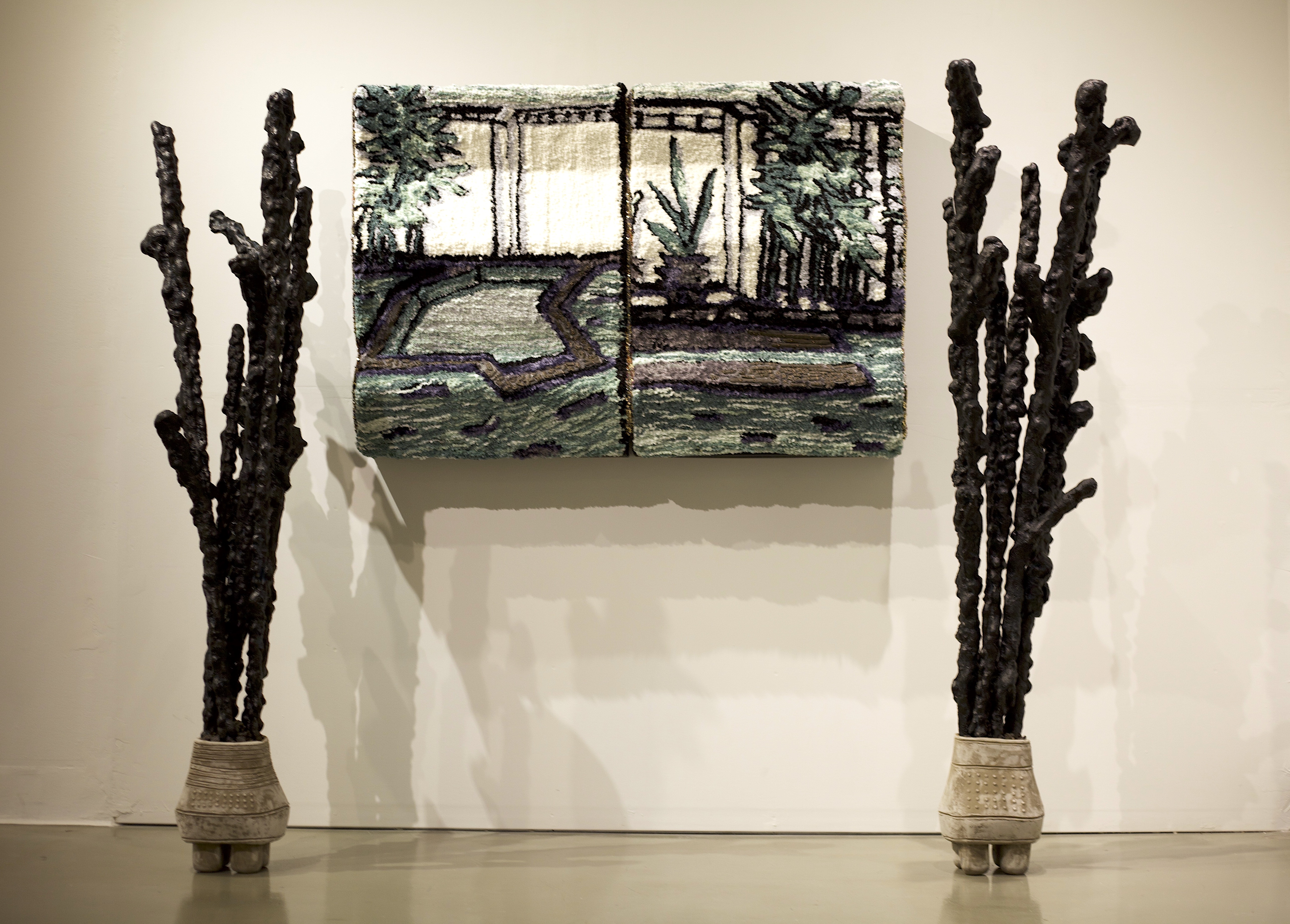 Dina Perlasca, Inside of the garden walls, 2023, Velvet Yarn, Ironstone Clay, Terra-Cotta Clay-Plating, Wood, Leather, Papier Mâché, House Paint, Sequence Fabric, Courtesy of the Artist
Dina Perlasca, Dentro de las paredes del jardin, 2023, Estambre de Terciopelo, Arcilla de Hierro, Terracotta, Chapa de Terracota, Madera, Piel, Papel Maché, Pintura de Casa, Tela de Chaquira, Cortesía de la Artista.


ENGLISH:

June 17-August 27, 2023

Artist Talk and Reception: Friday, June 16, 5:30-7 p.m.



Donald B. Anderson Gallery

1011 North Richardson Avenue

Roswell, NM 88201



Dina Perlasca is a Mexican-American artist designing and building her own custom-made future by aggregating elements from both her ancestral past and present circumstances and desires.
The idea of a force field can be understood through a multitude of approaches, each of which can provide new layers of insight into Perlasca's artistic concepts and materials. In physics, a force field is the space in which an inert object experiences movement as the result of impact with a force that does not make physical contact, such as gravity. In the 1981 book General Relativity from A to B, Robert Geroch explains "Gravity is the force of attraction between two objects. A gravitational force field models this influence that a… body… extends into the space around itself." Magnetism is another example and is something Perlasca explores in her practice through her use of iron as a material. "Iron stone clay is made mostly of iron," she says, "and it has so much of this material that it is magnetic. The origin of earth's magnetic field is still a mystery, but we know that it makes earth unique, it sets the direction of our compasses and gives us our north, our sense of location as well as acting as a shield against solar winds that would erode our atmosphere otherwise. Iron stone clay as a material of choice reveals the powerful qualities it has as an armor and protector…"
If we can consider the non-physical impacts of forces like gravity or magnetism on things from a conceptual point of view, the objects from our everyday lives equally exert non-physical forces upon us due to their relationship to our memories and visible representations of our decisions, identities, and values. Perhaps even more significantly, the conceptualization of non-physical forces exerted on us can be thought of in terms of gravitational or magnetic pulls and pushes with regard to ideologies and invisible systems. "I believe that there are universal systems of engineering, spirituality, and practical practices, as these systems are functional, useful, and needed by all," Perlasca says. "We share the need for a greater entity to believe in, the need for stability, the need for shelter, the need for nourishment, the need to hold on to something bigger than oneself, and the need to be part of a community."
While the field of physics provides one of the earliest and most basic or fundamental understanding of this phenomenon, the most common usage and understanding of a force field is from the genre of science fiction where the basic concept from physics is applied more imaginatively. Writers and artists have speculated the synthetic creation of a force field through technology or an individual or being willing a force field into existence. The basic idea is the creation of a barrier, either visible or invisible, that is less of a natural phenomenon and more of an intentional creation to deflect external energy or disintegrate approaching objects, to hide or protect oneself or something, to provide space to sustain life in an uninhabitable locale, or some combination thereof.
One point of connection between the idea of a force field in science fiction and Perlasca's artistic practice is through culture-specific processes of trying to understand the unknowable. "[There was a] significant period of time I spent recuperating at my grandfather's ranch in Xicalango, Hidalgo, México, after a car accident where I lost my memory," she recalls. "During my time at the ranch, I learned more about the magical jungle and the mythical creatures… In Náhuatl mythology, certain women are chosen by the universe to have mystical powers. Through a fire ritual, some of these chosen women who have become corrupted turn themselves into Brujas, balls of fire that jump and float atop… the jungle canopy. The Brujas travel from village to village seeking human blood, which they need to survive… an undying and an evil inheritance from the past, the Brujas are shapeshifters that live among us undetected… What I came to understand myself is that the evil in such myths should not necessarily be located externally. All individuals have the capacity to incorporate the inherited evil… or resentful hunt for blood of the Brujas if they are not conscious of their own insecurities." Another point of connection between the idea of a force field in science fiction and Perlasca's artistic practice is the exploration of possible applications of technology to design an alternative future. One such technology Perlasca has researched and used is 3D printing in clay as an analogy for human-led creation. She explains, "the 3D printer and its innate process operates as both the literal and metaphorical building blocks for future work. It is with respect and courage that I embrace my past and make a conscious choice to build upon old traditions."
Courageously designing one's own future by, in part, respectfully embracing inherited traditions, provides a connection point to a third perspective on force fields. In the social sciences, the practice of force-field analysis investigates social forces that can help or hinder progress in relation to a goal. Social psychologist Kurt Lewin developed this concept as a way to understand the multitude of forces in an environment at a particular point in time. This environment can be understood as a dynamic network of influences upon overlapping psychological (individual) and social (group) consciousnesses. Anxieties, goals, ideals, moods, motives, needs, and values are all examples of potential factors comprising an individual's or group's "field." According to Lewin, when a "field" experiences change due to exposure to external stimuli (possibly from interaction with the "field" of another individual or group), the resulting "boundary zone" impact leads to some notion of progression or regression.
"Through my work," Perlasca explains, "I celebrate the love and affection I have for my family, for my Méxican upbringing, for the landscapes of my childhood, and for the colors and the culture that surrounds me now in the Paso del Norte borderland area of El Paso and Ciudad Juárez. I also recall the regions where my ancestors dwelt in the past in the depths of my spirit, despite never having experienced some of those places in waking life. All that information, all of that data has been uploaded into my software even before I was born." From the artist's perspective as an individual, her "field" is impacted by the stimuli of the region and of her ancestors. This richly textured background serves as inspiration for Perlasca as well as the points of origin of motifs in her artwork, consciously or subconsciously influenced by these stimuli. Further expanding on specific stimuli, Perlasca says, "Majolica and talavera serve as a point of pride throughout the history of Méxican pottery, yet my works shift away from the conventional coloration and authentic designs typically found in majolica by utilizing my own symbology and integrating them into the vessels, rather than to use traditional intricate, heavily saturated designs."
Taking a moment to shift our perspective from the artist to the region, we can also apply force-field analysis to the Paso del Norte borderland as another way to explore the themes in Perlasca's artistic practice. As a product of the environment, artificially polarized by the synthetic creation of the México/US border, the artist's "field" is constantly interacting with elements of this "boundary zone" (and the related cultural, economic, and political forces). Taking in these multiple, overlapping experiences of progression and regression simultaneously, Perlasca's resulting in-between, uncanny environment births a new culture. "I celebrate all the people, places, and cultures my family has inhabited throughout the story of our linear time in history," she says. "I do not only respond to the aesthetics of the past, I also respond deeply to the time in which I live, the environment that surrounds me, and the future I envision for generations to come… I was raised Catholic, yet I have a particular connection and attraction to Mesoamerican figures and pagan idols. Throughout my life many creatures and characters of this sort have been manifested as prayers for safe and joyful alternative futures." As such, one could consider the complex environments Perlasca creates in the gallery as a fusion of many different conceptual and material ingredients to encourage us all to imagine possible alternative futures for the "boundary zone" overshadowing many aspects of our region.
While Perlasca was creating work for her exhibition Campos de Fuerza / Force Fields at the Roswell Museum, two students at The University of Texas at El Paso took time to reflect on her new work. Hannah Coats, who interviewed Perlasca, reflected that "Perlasca is a Mexican-American artist, who also has Italian and Spanish heritage; she describes her art as a way of 'celebrating uniqueness,' not only because of her multiculturality, but also as a person. Perlasca also draws inspiration from nature and the… landscape, often including plant life in her installations. As a child, Perlasca spent time at her grandfather's ranch in the middle of a jungle in México, and the plants she uses are reminiscent of both jungle plants and more familiar domestic house plants." Another student, Renette Rodriguez, described her response to encountering Perlasca's new work: "At first glance I am struck by the aesthetics of the materials; velvet thread, stone clay, wood, leather and many other materials… Perlasca's works are inspired by her own heritage and the use of materials compliment and connect with it. It draws my attention to the way she shares part of her life and what her environment was. I like the thought it generates in me to connect with my own cultures."
Dina Perlasca lives with her three children in the Paso del Norte region comprising El Paso, Texas in the United States and Ciudad Juárez, Chihuahua in México. Perlasca has ventured into personal creative adventures such as being the ranch manager for two years at her grandfather's Hacienda Xicalango in the middle of the Huastecan jungle mountains, at the heart of México's State of Hidalgo. She received her BFA in Ceramics with a minor in Metalsmithing from The University of Texas at El Paso in 2018 and her MFA in Ceramics from New Mexico State University in Las Cruces in 2022. Perlasca holds the Student Director At Large position for the 2021 – 2023 National Council on Education for the Ceramic Arts. She is currently teaching undergraduate ceramics and design at The University of Texas at El Paso, New Mexico State University, and Eastern New Mexico University in Portales.
Perlasca has an active studio practice at Bravo Studios in the Research Interdisciplinary Building at The University of Texas at El Paso. She is constantly exhibiting her artwork regionally and nationally. Perlasca's work has been included in exhibitions in California, New Mexico, Ohio, and Texas. She was a 2019 Artist-in-Residence at La Union Elementary School in Sunland Park, New Mexico and has served as President of the Virtual Clay Collective since 2021. Perlasca's solo exhibitions include Under My Skin at The University of Texas at El Paso's Glass Gallery in 2018 and Hybrid at the New Mexico State University Art Museum in 2021.
Her show Campos de Fuerza / Force Fields at the Roswell Museum is the artist's first solo exhibition at a museum since receiving her MFA. There will be a number of opportunities for visitors to engage with the artist about the concepts and materials with which she works over the course of the exhibition's opening weekend, June 16-18, 2023, starting with an artist talk at 5:30pm on Friday June 16 in the Roswell Museum's Patricia Lubben Bassett Auditorium followed by a reception in the gallery. For more information about the artist, visit dinaperlasca.com.
- Aaron Wilder, Curator of Collections & Exhibitions



ESPAÑOL:


17 de junio-27 de agosto de 2023

Plática artística y recepción a las 5:30 el viernes 16 de junio



Galería de Donald B. Anderson

1011 North Richardson Avenue

Roswell, NM 88201
Dina Perlasca es una artista Mexicoamericana que diseña y construye un futuro "as su medida" combinando elementos de sus raíces del pasado ancestral y de sus circunstancias y deseos en el presente.
La idea de un campo de fuerza puede entenderse a través de múltiples enfoques, cada uno de los cuales puede aportar nuevas capas de comprensión de los conceptos artísticos y los materiales de Perlasca. En la física, se considera que un campo de fuerza es el espacio en el que un objeto inerte experimenta movimiento como resultado de un impacto, con una fuerza que no hace contacto físico, tal como la gravedad. En el libro Relatividad General de A a B del ano 1981, el autor Robert Geroch explica que "La Gravedad es la fuerza de atracción entre dos objectos. Un campo de fuerza gravitacional modela la influencia que… un cuerpo… tiene y como se extiende al espacio que lo rodea." Magnetismo es otro ejemplo y es algo que Perlasca explora en su práctica a través del uso de hierro como material. "Una gran parte de la arcilla de hierro está compuesta de hierro", ella nos dice. "Tiene tanto hierro que la arcilla es magnética. El origen del campo magnético del planeta tierra todavía permanece como un misterio, pero sabemos qué hace al planeta tierra único, marca la dirección de nuestros compases y nos da nuestro norte, nuestra dirección de locación, así como proveernos un escudo contra los vientos solares que erosionarían nuestra atmosfera si los campos magnéticos no estuvieran presentes. Elegir la arcilla de hierro en términos de material revela las poderosas cualidades que tiene como escudo y protector…"
Si pudiéramos considerar que los impactos no físicos de las fuerzas como la gravedad o el magnetismo de una manera conceptual, los objetos de nuestro día a día de igual manera ejercen fuerza no física hacia nosotros debido a su relación hacia nuestras memorias y las representaciones visibles de nuestras decisiones, identidades y valores. Y tal vez aún mas significativamente la conceptualización de la fuerza que ejercen las fuerzas no físicas hacia nosotros podrían ser pensadas en términos de gravedad o magnetismo que nos jala o empuja en respecto a ideologías y sistemas invisibles. "yo creo que hay sistemas universales de ingeniería, espiritualidad, y acciones prácticas, todos estos sistemas son útiles, funcionales y todos las necesitamos," dice Perlasca. "Compartimos la necesidad de creer en alguna entidad, la necesidad de estabilidad, la necesidad de refugio, la necesidad de nutrición, la necesidad de aferrarse a algo más grade que uno mismo, y la necesidad de ser parte de una comunidad."
Aunque la física ofrece una de las nociones más fundamentales de este fenómeno, el uso y la comprensión más comunes de un campo de fuerza proceden del género de la ciencia ficción, donde el concepto básico de la física se aplica de forma más imaginativa. Escritores y artistas han especulado la creación sintética de un campo de fuerza a través de la tecnología o algún individuo o manifestándolo en existencia. La idea básica seria la creación de una barrera ya sea visible o invisible, no es tanto un fenómeno natural, más bien, es la intención de crear una desviación de una energía externa o de desintegrar objetos que se aproximen. También pueden usarse para esconder o protegerse a sí mismo o a algo más, estas proveen la capacidad y el espacio para darle sustento a la vida en lugares inhabitables.
Un punto de conexión entre la idea de un campo de fuerza en la ciencia ficción y la practica artística de Perlasca es a través de procesos de puntos específicos en cuanto a cultura en cuestión de tartar de entender lo inentendible. "Hubo un periodo de tiempo significativo que pasé en recuperación en el rancho de mi abuelo en Xicalango, Hidalgo, México, después de haber tenido un accidente de carro en el cual perdí mi memoria," ella se acuerda. "Durante mi tiempo en el rancho, aprendí más acerca de la mágica selva y sus creaturas mitológicas… en la mitología náhuatl, ciertas mujeres son escogidas por el universe para tener poderes místicos. A través de un ritual de fuego, algunas de estas mujeres que han sido escogidas se corrupten y se transforman en Brujas, bolas de fuego que saltan y flotan sobre el dosel de la selva. Las Brujas viajan de pueblito en pueblito buscando sangre humana, la cual necesitan para sobrevivir… una herencia eterna del pasado, las Brujas son creaturas cambia formas que viven entre nosotros sin ser detectadas… Lo que vine entendiendo es que la malicia en dichos mitos no es necesariamente localizada externamente. Todos los individuos tienen la capacidad de incorporar o de heredar tal malicia… o resentimiento de casar por sangre de las Brujas si no son conscientes de sus propias inseguridades." Otro punto de conexión entre la idea de un campo de fuerza en la ciencia ficción y la practica artística de Perlasca es la exploración de posibles aplicaciones de la tecnología para diseñar un future alterno. Una de las tecnologías que Perlasca ha investigado es la impresora 3D de barro como una analogía para creaciones hechas por humanos. Ella explica que, "la impresora 3D de barro y su proceso innato opera tanto en forma literal como metafórica construyendo bloques para trabajo futuro. Es con respeto y valentía que acepto mi pasado y tomo una decisión consciente de construir mi future basado en viejas tradiciones.
Diseñando valientemente nuestro propio futuro y en parte respetuosamente aceptando tradiciones heredadas, provee una conexión a una tercera perspectiva a los campos de fuerza. En las ciencias sociales, la práctica del análisis del campo de fuerza investiga las fuerzas sociales que pueden ayudar u obstaculizar el progreso en una relación con una meta. El psicólogo social Kurt Lewin desarrollo un concepto para poder entender la multitud de fuerzas en un ambiente en un punto y tiempo en particular. Este ambiente puede ser entendido como una red dinámica de influencias al superponer las conciencias psicológicas individuales y las de grupos sociales. La ansiedad, las metas, los ideales, los estados de ánimo, los motivos, las necesidades y los valores son ejemplos de factores potenciales que podrían comprometer o dañar "el campo" individual o de un grupo de personas. De acuerdo con Lewin, cuando un "campo" experimenta un cambio debido a la exposición a estímulos externos, el impacto resultante de la "la zona limite" conduce a una cierta noción de progresión o regresión
"A través de mi trabajo," Perlasca explica, "yo celebro el amor y cariño que le tengo a mi familia, por mi educación mexicana, por los paisajes de mi niñez, y por los colores y la cultura que me rodeaban ahora y en el are de la frontera del Paso del Norte de El Paso y Cd. Juárez. También recuerdo las regiones en donde mis antepasados han vivido en mi Espíritu, a pesar de que nunca he visitado en persona. Toda esa información, toda la data que ha sido cargada a mi sistema aun antes de que yo naciera". Este pasado lleno de abundantes texturas ha servido de inspiración para Perlasca, también como punto de origen de adornos en su trabajo que consciente o inconscientemente han estimulado sus inspiraciones. "La Mayólica y Talavera han servido como punto de honor y prestigio a través de la historia de cerámica mexicana, mi trabajo se aleja de los colores convencionales y diseños auténticos encontrados en la mayólica al utilizar mi propia simbología en mis vasijas, en vez de utilizar diseños tradicionales que son más saturados."
Tomando un momento para para cambiar nuestra perspectiva de la artista a la región, también podemos aplicar el análisis de campo de fuerza a la frontera del Paso del Norte como otra forma de explorar los temas en la práctica artística de Perlasca. Como producto del ambiente, artificialmente polarizado por la creación sintética de la frontera de México y Estados Unidos, "el campo" de la artista está constantemente interactuando con elementos de esta "zona borde" (y la relación de la fuerza cultural, económica, y política). Tomando en cuenta estas múltiples experiencias progreso y regreso simultáneamente, el trabajo de Perlasca resulta en entre-medio misterioso y nace una nueva cultura. "Yo celebro a la gente, los lugares y la cultura que mi familia ha habitado a través de la narrativa de nuestra historia en tiempo linear," ella dice. "No solamente responde a la estética del pasado, También responde profundamente a el tiempo en el que yo vivo, el ambiente que me rodea y el future que yo veo para las generaciones que vienen… Yo fui criada católica, y aun así tengo una conexión particular y me atraen las figuras e ídolos paganos y Mesoamericanos. A través de lo largo de mi vida muchas creaturas y personajes de este tipo han sido manifestados como oraciones para la felicidad y seguridad de futuros alternos." Y así uno podría considerar que las complejas instalaciones que Perlasca crea en la galería son como una fusión de diferentes conceptos y materiales que nos alientan a imaginar posibles futuros alternos que revelan ciertos aspectos sociales que se viven en la región de "la zona fronteriza "entre Estados Unidos y México.
Mientras Perlasca fue creando su trabajo para la exhibición de "Campos de Fuerza/ Force Fields" en el Museo de Roswell, dos estudiantes de La Universidad de Texas en El Paso tomaron el tiempo para reflexionar sobre su nuevo trabajo. Hanna Coats, quien entrevisto a Perlasca, reflexiono que "Perlasca es una artista Mexicoamericana, que a la vez tiene raíces italianas y españolas, ella describe su arte como una forma de 'celebrar su identidad peculiar' no solamente por su identidad multicultural, y también como persona. Perlasca se inspira en la naturaleza, los paisajes, a menudo incluyendo plantas en sus instalaciones. Cuando niña, Perlasca pasaba tiempo en el rancho de su abuelo en medio de la selva en México, y las plantas que usa le recuerdan las plantas de la selva y a plantas domésticas." Otra estudiante, Renette Rodriguez, descríes su encuentro al ver el nuevo trabajo de Perlasca: "A primera vista, me impresiona la estética de los materiales, el estambre de terciopelo, la arcilla de hierro, la madera, la piel y otros materiales… el trabajo de Perlasca ha sido inspirado por sus raíces y el uso de materiales lo complementan y hacen conexión con ellas. Me llama la atención la manera en que ella comparte parte de su vida y el ambiente en el que vive. Me gusta la idea que genera en mí y como eso me estimula a conectarme con mi propia cultura."
Perlasca vive con sus tres hijos en la región Paso del Norte, compuesta por El Paso TX, en los Estados Unidos y Cd Juárez, Chihuahua, en México. Perlasca se ha aventurado en proyectos personales como ser la gerente de rancho por dos años en la Hacienda de su abuelo en Xicalango en medio de la selva montañosa de la Huasteca, en el corazón del estado de Hidalgo en México. Recibió su licenciatura en Artes Plásticas con especialidad en Cerámica y Metales en La Universidad de Texas en El Paso (UTEP) en el 2018 y Maestría en Artes Plásticas Mixtas en La Universidad del Estado de Nuevo México en Las Cruces en el 2022. Perlasca ha tenido el privilegio de sostener la posición de directora de Estudiantes en Grande para el término del 2021 al 2023 de NCECA Consejo Nacional de Educación para las Artes Plásticas de Cerámica en Estados Unidos. Actualmente Dina Perlasca es Profesora de Cerámica y Diseño Básico en La Universidad de Texas en El Paso, (UTEP) y en La Universidad del Este de Nuevo México, en Portales NM (ENMU).
Perlasca mantiene una práctica de estudio activa en su estudio en Bravo Estudios en el edificio de Investigación Interdisciplinaria en la Universidad de Texas en El Paso. Ella constantemente expone su arte nacionalmente y dentro de su región. El trabajo de Perlasca ha sido incluido en exhibiciones en California, Nuevo México, Ohio y Texas. Ella fue artista en residencia en la Primaria de La Unión en Sunland Park, Nuevo México y ha sido presidenta de La Colectiva de Barro Virtual desde el 2021. Las exhibiciones individuales de Perlasca incluyen Under My Skin / Bajo mi Piel en la Universidad de Texas en El Paso en La Galería de Cristal / Glass Gallery en el 2018 y Hybrid / Hibrido en El Museo de la Universidad de El Estado de Nuevo México en el 2021.
La exhibición de "Campos de Fuerza / Force Fields," es la primera exposición individual de Perlasca en el Museo de Roswell NM después de haber recibido su Maestría en Artes Plásticas. Habrá oportunidad para los visitantes y platicar sobre sus conceptos y materiales que ella ha trabajado en el curso del fin de semana de la apertura de su exhibición, del 16 al 18 de junio del 2023, empezando con una plática artística a las 5:30 el viernes 16 de junio en el Auditorio Patricia Lubben en El Museo de Roswell, seguido por una recepción en la galería. Para más información sobre la artista, visite dinaperlasca.com.

- Aaron Wilder, Curador de Colecciones y Exhibiciones