John Sims Projects Proudly Presents
"Memorial Day Burn and Bury Confederate Flag: 2020"
A Group Show Including the Art of Aaron Wilder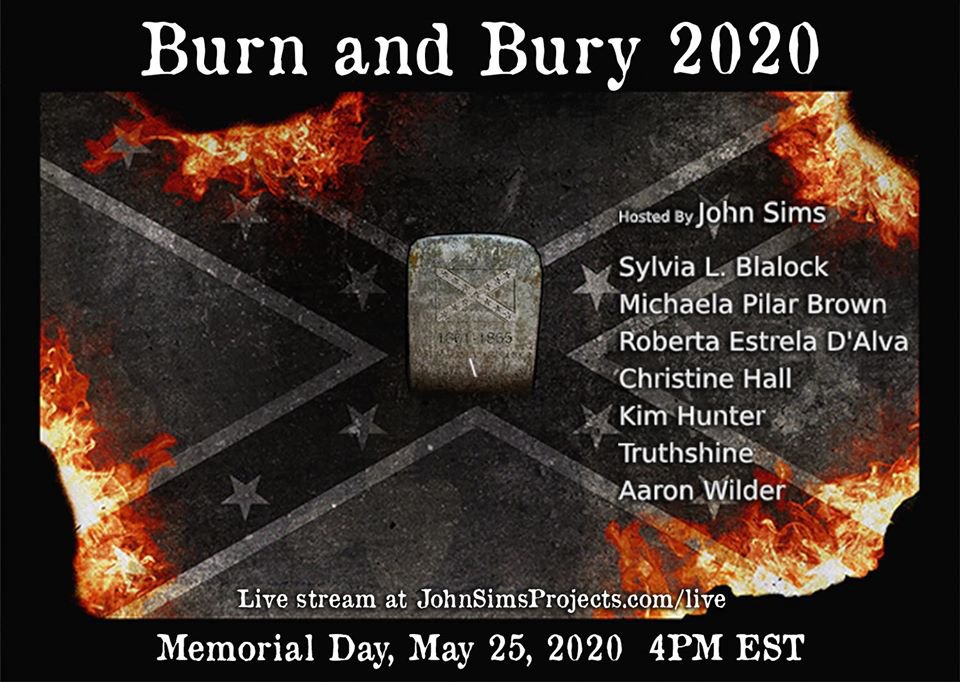 May 25, 2020, 4:00pm-6:00pm Eastern Time
View the recording of the event here

Artist John Sims will present his 5th annual Memorial Day Burn and Bury Confederate Flag: 2020. This multimedia zoom event will take place on Memorial Day, Monday, May 25 at 4:00 p.m. at johnsimsprojects.com/live. Hosted by John Sims, the event will be a performative variety show of news, reflections, poetry, and the live burning of the Confederate flag. It will include presentations and discussion featuring poet Sylvia L. Blalock, maker/artist Michaela Pilar Brown, poet/performance artist Roberta Estrela D'Alva, poet Christine Hall, poet/writer Kim Hunter, interdisciplinary artist Aaron Wilder, and the Tampa Bay social justice campaign Truthshine.
In honor of the 150th anniversary of the end of the Civil War, Sims organized a 13-state funeral for the Confederate flag on March 25, 2015—three weeks before the Emanuel A.M.E. Church shootings in Charleston, South Carolina.
The Charleston murders led to his call to burn and bury the Confederate flag in all 50 states on the following 4th of July. Both of these actions were successful, with widespread participation and media coverage across the country. This lead to the creation of the annual Burn and Bury Memorial event, The Burn and Bury Video Anthem and a Burn and Bury Confederate Flag Support Kit, which includes an 8.5 x 11 inch downloadable Confederate flag for a do-it-yourself burning.
The goal of this annual action is to create an expression of resistance to symbols and behavior of white supremacy that continue to flourish under the Trump administration and the current COVID-19 pandemic. It is also a way to honor the memory of social justice soldiers who fought against slavery and for Civil Rights and everywhere in between, and those who continue to fight against contemporary institutional and cultural white supremacy. This annual event seeks to create a new ritual for all Americans to engage in a moment and space of healing and transformation.
This annual event is a part of Sims' Recoloration Proclamation, a 20-year multi-media project which explores the complexity of identity, cultural appropriation, and visual terrorism in the context of Confederate iconography and African-American culture. This system of works features recolored Confederate flags, installations, public performances, protest work, film, and the AfroDixieRemixes project. The elements of the project have been performed in Soho, Harlem, Gettysburg, at the State Capitol in Columbia, SC, and on the steps of City Hall in San Francisco.
For more on this project, see John Sims' CNN OP-ED piece, Don't Resurrect the Confederacy- de-Zombify it.
John Sims, a Detroit native, is a conceptual artist, writer, and producer, creating projects spanning the areas of installation, text, music, film, performance, and large scale activism. His main projects are informed by the vocabulary of mathematical structure, the politics of sacred symbols/anniversaries, and the agency of poetry.
Work from Aaron Wilder's "You Have the Right to Remain Silent" project is included in the exhibition. It is a video and installation project incorporating sound and edited footage of the burning of what appears to be a Confederate flag. The project was significantly inspired by Dr. Martin Luther King's August 1963 speech "I Have a Dream" as well as by the contemporary Black Lives Matter movement. Pointing to the South as the nexus of racism in the US avoids the underlying truth that many of America's core institutions are either founded on racist principles or perpetuate structural racism and that many outside the South benefit from this structural racism. This project is an intended break or rupture of the popularly held belief in the United States that white people outside the South don't have any responsibility for or benefit from the structural racism against black people. This project (video and wall-mounted installation of the flag debris) presents a deeper look at some of the underlying causes of one of the most significant issues of American contemporary culture and the mentality shift that must take place for a real break-through in social progress and local race relations.