The Natalie and James Thomspon Art Gallery at San José State University (SJSU)
proudly presents BoundarySpan
A Group Show Featuring Artwork by Michael Arcega, Jimin Lee, Paula Levine, Sherwin Rio, and Desiree Rios, curated by Aaron Wilder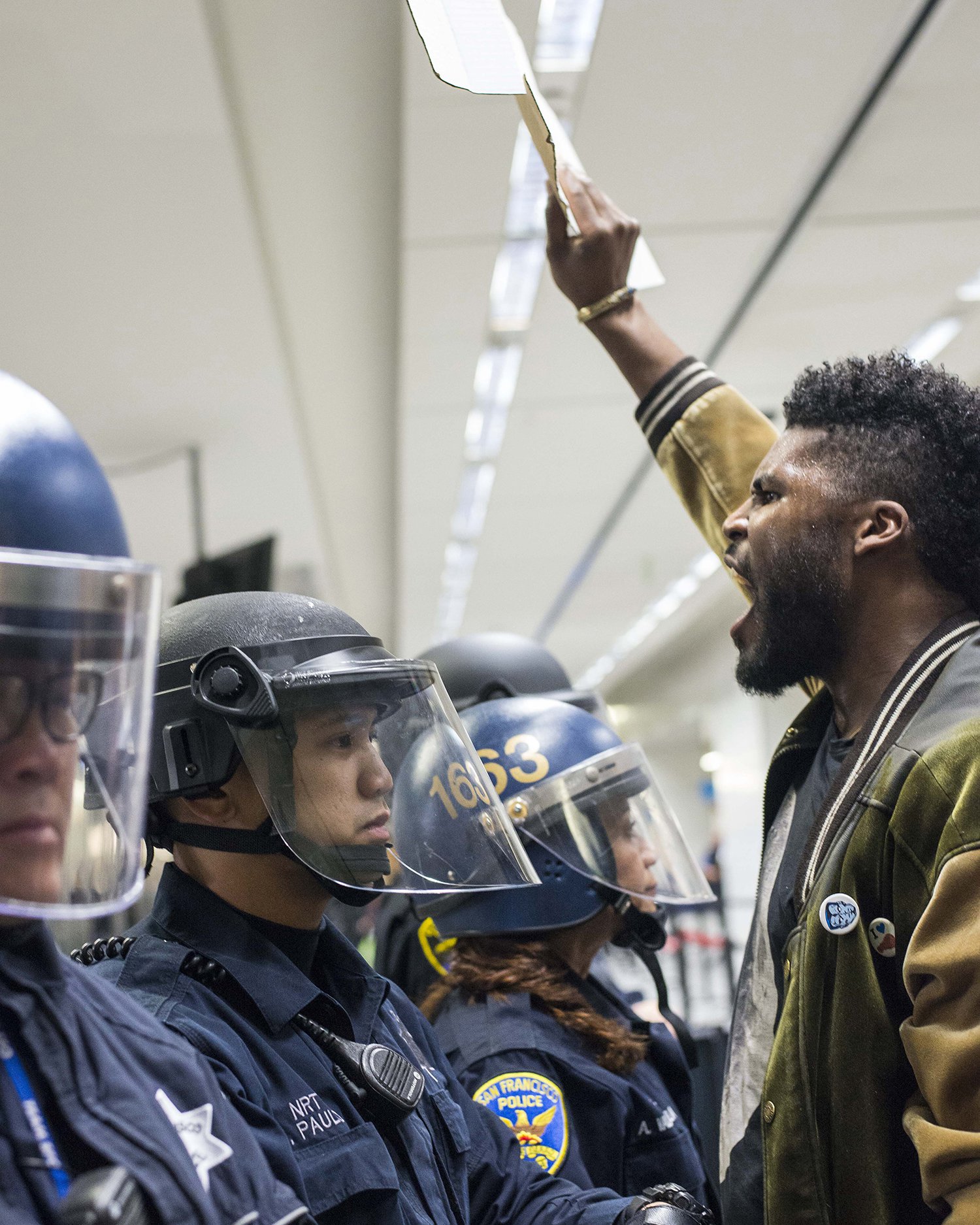 Desiree Rios
The Divide (detail), 2017-2018
Photography and Audio Installation
November 12, 2019 - February 21, 2020
(closed for SJSU's winter break December 14, 2019 - January 26, 2020)

Illustrated Lecture by Sherwin Rio: Tuesday November 12, 2019, 5:00pm-6:00pm

Opening Reception: Tuesday November 12, 2019, 6:00pm-7:30pm

Illustrated Lecture by Michael Arcega: Tuesday November 19, 2019, 5:00pm-6:00pm

Illustrated Co-Lecture by Jimin Lee & Paula Levine: Tuesday January 28, 2020, 5:00pm-6:00pm


Natalie and James Thompson Art Gallery
One Washington Square

San José, CA 95192



In a time of increasing divisiveness, separation, polarization, and fortified walls, artists can serve critical roles in building indirect associations, nurturing connections, and reminding us of the importance of considering a multitude of perspectives. BoundarySpan is a group exhibition at the Natalie and James Thompson Art Gallery displaying works by artists Michael Arcega, Jimin Lee, Paula Levine, Sherwin Rio, and Desiree Rios.
Human fabricated, artificial borders have been formed politically time and again to divide and subjugate populations for the benefit of those in power. By imaginatively eradicating, altering, and inverting these boundaries contemporary artists seek to challenge colonialism, subvert capitalist market segmentation, and combat white supremacy. BoundarySpan seeks to highlight the practices and efforts of artists who are roving ambassadors seeking to increase the degree of connectivity and integration between perceived combatants.
Interdisciplinary artist Michael Arcega maintains a research-based practice focusing on issues of language and sociopolitical dynamics within circumstances where power relations are unbalanced. As a naturalized citizen, Arcega reimagines familiar forms that conjure historic parallels between his colonized past and his present search for remedies within the colonizer's landscape. BoundarySpan includes two spatial artworks by Arcega. Conquistadourkes is a suit of armor constructed predominantly out of manila file folders that comments on the frailty of military might and the strength of trade while drawing parallels between colonial history and the contemporary colonizing effects of US policies. In Lexical Borrowing: Saw Horse by the Sea Shore – Understanding Manifest Destiny, Arcega illustrates the linguistic process contributing to generational shifts in language through the transformation of an American kayak into a Pacific outrigger canoe.
Korean-born, California-based artist Jimin Lee works at the intersection of photography and printmaking, integrating the traditional woodcut with laser cutting, digital photography, and inkjet printing. For many years, she has focused on the personal and societal impacts of mobility, displacement, and labor. BoundarySpan includes three photography/pictorial arts hybrid works by Lee. Bon Voyage III is one large wall installation of 18 pieces resulting from Lee's ongoing fascination with the idea of containerization. To Lee, each shipping container is singular and poetic with its signs of weathering from global transit and also a body in itself with a skin separating its visible exterior from its concealed interior. In the two large triptychs Yeoncheon 1 and Yeoncheon 2, Lee combined photographs of Yeoncheon County in the Korean peninsula's Demilitarized Zone, an area where trade and mobility are restricted, with symbols of mediation and exchange.
Canadian-American media artist Paula Levine has deep roots in experimental narrative while using technology to collapse distances and bridge the space between disparate locations. Her work takes many forms and she also writes on locative media's ability to expand the cartographic imagination. BoundarySpan includes two artworks by Levine using digital media. Burials and Borders is a video work chronicling Levine's journey to Golan Heights for her brother's burial at a time when the repatriation of the region from Israel back to Syria was being negotiated. While that repatriation still has yet to happen, the video explores multiple meanings of that potential shift for those living in Golan Heights as well as for the artist herself. Shadows from Another Place is an interactive webwork translating the impact of political and cultural traumas occurring in Baghdad at the time of the 2003 US invasion of Iraq to local terms for the city of San Francisco, California.
Interdisciplinary artist Sherwin Rio uses visual metaphors to expose "misvisibility," the tactical obfuscation of history, culture, and society. BoundarySpan includes two spatial artworks by Rio. INADEQUACIES OF HEIGHT is a found object sculpture that stacks together three step ladders of varying heights to create a taller stepladder as a metaphor for class mobility especially in the context of US West Coast Filipino-American history. The work uses precarity and visual deception as a means of reflecting the constructed inability to climb social ladders while also referencing ingenuity and resourcefulness within difficult circumstances. TRUE TEMPER (DEAD WEIGHT) is another found object sculpture of lashed-together rocking chair parts with a wheel barrow as a metaphor for Filipino-American labor and leisure, especially within the history of US West Coast labor.
Mexican-American photojournalist and documentary photographer Desiree Rios focuses on investigating social injustice, individual and communal notions of identity, subcultures, and the narratives and lived experiences of populations that are underrepresented photographically. Her upbringing as a second generation, Latina woman influences the sociopolitical issues she is particularly drawn to in her personal work, such as stories of immigration and women's rights. BoundarySpan features a site-specific adaptation of Rios' sound and photography wall installation The Divide. Starting with the election of Donald Trump as president of the United States, Rios recorded images and sounds from political rallies and protests, both anti-Trump and pro-Trump, across the Bay Area. This work embodies the confusion and intensity of increasing political polarization while emphasizing potential commonalities.
Through an exploration of physical and conceptual boundaries and how those relate to power dynamics, the flow of capital, societal divisiveness, and Othering, these artists use their intellectual capacity, social connections, and personal histories to reduce the degree of human separation. Works in the show highlight contradictory parallels in policies and values, question notions of binary divergence, reflect on intersecting identities, and act to preserve and understand cultural elements spanning a number of boundaries.
In conjunction with the opening of this group exhibition, participating artist Sherwin Rio will present an illustrated lecture 5:00pm – 6:00pm in the Department of Art & Art History Lecture Hall (room 133) the evening of November 12, 2019, just prior to the opening reception, 6:00pm-7:30pm in the Natalie and James Thompson Art Gallery. One week later, participating artist Michael Arcega will present an illustrated lecture 5:00pm – 6:00pm on November 19, 2019. The exhibition will aptly span the boundary between fall and spring academic semesters. Closed for winter break December 14-January 26, BoundarySpan will reopen January 27, 2020 and continue to February 21, 2020. To celebrate the reopening of the exhibition, participating artists Jimin Lee and Paula Levine will present illustrated lectures 5:00pm-6:00pm in the Department of Art & Art History Lecture Hall the evening of January 28, 2020. The exhibition and associated illustrated lectures are free and open to the public.
We would like to extend our humblest appreciation to each of the five participating artists for generously loaning their own works to us directly for this exhibition. A deep debt of gratitude is also owed to Robert Bain in the San José State University Photographic Services Office of the Division of Information Technology as well as the faculty of the Department of Art & Art History for their support.
Curated by Aaron Wilder