Swell Gallery
Proudly Presents

"Binary Unbinding"
A Group Show Curated by Aaron Wilder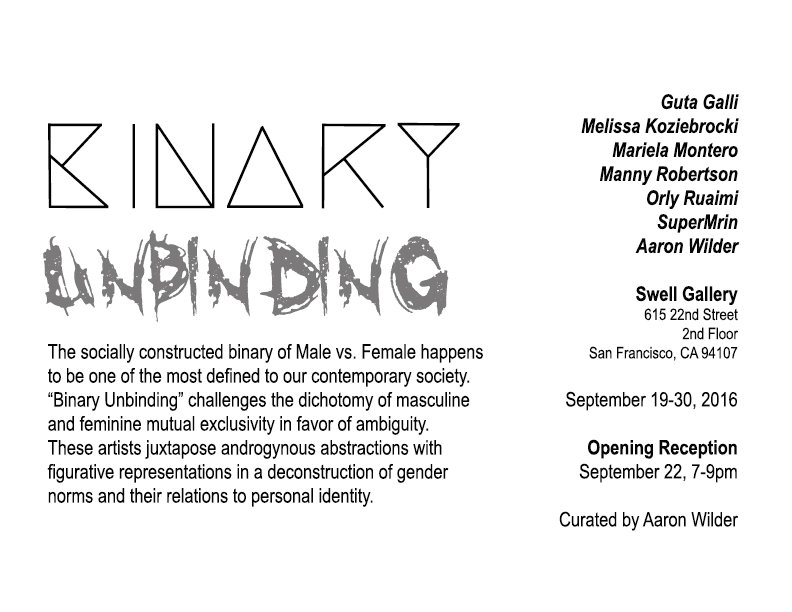 September 19 - 30

Opening Reception:
Thursday, September 22, 2016, 7:00 – 9:00pm
Swell Gallery
615 22nd Street, 2nd Floor

San Francisco, CA 94107

The Swell Gallery presents Binary Unbinding, a group show curated by Aaron Wilder featuring work by Guta Galli, Melissa Koziebrocki, Mariela Montero, Manny Robertson, Orly Ruaimi, SuperMrin, and Aaron Wilder. 


The socially constructed binary of Male vs. Female happens to be one of the most defined to our contemporary society. Binary Unbinding challenges the dichotomy of feminine and masculine mutual exclusivity in favor of ambiguity. These artists juxtapose androgynous abstractions with figurative representations in a deconstruction of gender norms and their relations to personal identity.
The Swell Gallery is located on the second floor of SFAI's Graduate Center at 615 22nd Street. Enter from ground level on 22nd Street and the gallery is the first door on the right after arriving at the second floor from the stairwell.