As of December 18, 2020, Aaron Wilder is officially an artist-in-residence at High Concept Labs (HCL) in Chicago, Illinois.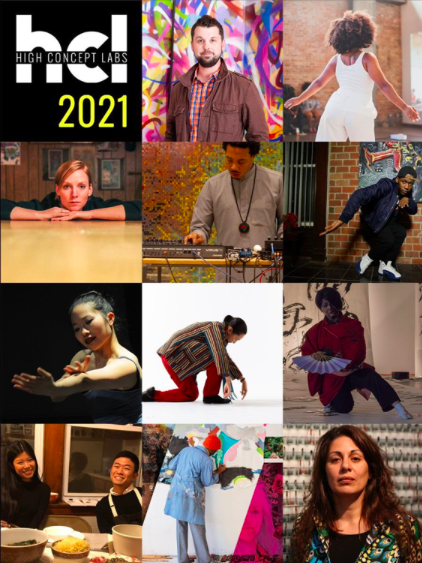 Meet HCL's 2021 Resident Artists:
11 Artists & Collectives
3 Residency Programs
HCL is honored to support these 2021 Resident Artists, who bring perspectives embedded in the voices, cultures, histories, and experiences from across Chicago, the US, Uruguay, Japan, India, Korea, France, and Burkina Faso.
Artists in Residence 2021:
Lional Freeman aka 'Brother El'
Aaliyah Christina
Kristin McWharter
Aaron Wilder
Partner Artists of HCL's AIR Program:
Irene Hsiao*
Sterling Lofton*
*These artists are receiving support through HCL's valued partnership with Chicago Dancemakers Forum.
LabX Artists in Residence 2021:
Propelled Animals
Tamara Cubas
Fellows in Residence 2021
Yoshinojo Fujima aka Rika Lin
Ayako Kato
Sungjae Lee & Stella Lee
Aaron Wilder: Artist in Residence2021
Aaron Wilder is an interdisciplinary artist and recently moved to Chicago from San Francisco. He uses the personal and the space between the analog and the digital, the public and the private, and the unassuming and the instigative as the creative means to explore the introspective and social processes of contemporary culture. He describes his artistic approach as binding with anthropology, sociology, and psychology, to drive stronger collaborations and cross-dialogue from a plurality of perspectives and different backgrounds.
The Project: For his HCL residency Wilder is developing a community-centered work about the relationship of masculinity to internalized forms of prejudice. The subject considers the pathology of our escalating violence: police abuse of power, mass violence, sexual harassment and assault, internalized shame for not conforming to normative masculinity. Wilder envisions the work to take shape as an installation at Mana Contemporary, drawing from video and audio recordings of conversations and incorporating original two-and three-dimensional objects.
The research consists of a large-scale study of individuals from across the gender spectrum, ethnicity, age, wealth, religion, and political views, modeled after Deborah David and Robert Brannon's influential publication The Forty-Nine Percent Majority: The Male Sex Role where they outlined the "four basic rules of manhood" in 1976. Wilder is creating a rigorous survey questionnaire guided by the David and Brannon rules 1. "No Sissy Stuff", 2. "Be a Big Wheel", 3. "Be a Sturdy Oak", 4. "Give 'Em Hell!", that he is conducting as one-on-one interviews over the year. In addition, Wilder plans to host a series of public talks to push the study's criticality, reflection, and insights through other means. The HCL studio is the site of the planned activities as well as the repository of collected materials and eventually Wilder's fabrication shop.
Artist Bio: Aaron Wilder is originally from Arizona, where he grew up in a conservative evangelical Christian environment. He is a self-taught artist and incorporates the early experience in a life-work against racism, sexism, homophobia, and prejudice against other religions. A driving objective for him is to better understand social constructs. Since receiving an MFA from San Francisco Art Institute he continues self-learning from collaborations using new media. Major influences are the artists Tania Bruguera, Adrian Piper, Pedro Reyes, Postcommodity, Jacolby Satterwhite, Dread Scott, Taryn Simon, Hank Willis Thomas, and Fred Wilson.
His collaborative exhibitions include "Expletive Chapel: Lavender Heights" (2019), an installation centered on the lived experiences of LGBTQ+ community members in Sacramento; "Alternative Dementia" (2017), an installation intersecting five artistic practices without attribution, "Sugar & Snails" (2016/2017), photography and public interventions, and "See/Saw" (2016/2017), a publication.
High Concept Labs (HCL) strengthens the creative sector by providing accessible residency programs for artists across disciplines interested in experimentation, discovery, exchange, and risk. Through these residencies, HCL meets artists where they are while promoting visibility for the creative process and advocating for critical investment across every stage in the development of new work.
HCL is generously supported by the Walder Foundation, the Gaylord and Dorothy Donnelley Foundation, the MacArthur Funds for Arts and Culture at The Richard H. Driehaus Foundation, the Illinois Arts Council, LYRASIS and the Andrew W. Mellon Foundation, The Saints, the Norwottock Charitable Trust, the Martha Struthers Farley and Donald C. Farley, Jr. Family Foundation, and individual donors. HCL is in residence at Mana Contemporary Chicago and receives additional space support by the Harris Theater for Music and Dance.