Block Gallery presents the launch of
Tool Book Project Volume III: Work Book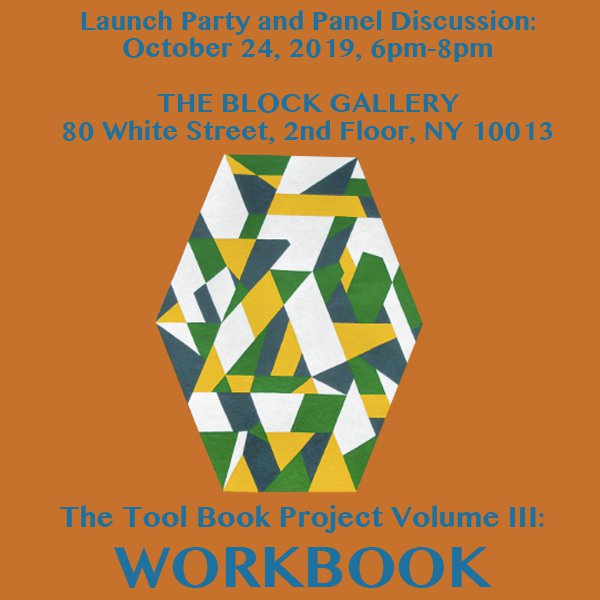 Launch Party: Thursday, October 24, 2019, 6:00pm - 8:00pm
Block Gallery

80 White Street, 2nd Floor
New York NY 10013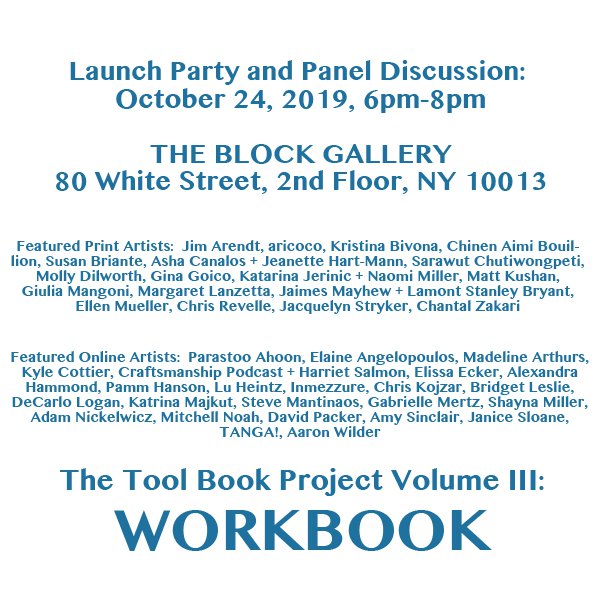 The Tool Book Project Volume III: Work Book

The Tool Book Project announces the publication of Work Book, a risograph magazine featuring 18 artists and collaborative teams and a series of artist features on the Tool Book website whose work addresses labor, leisure, and it's cultural intersections with art production.
The Tool Book Project was conceived of in the wake of the 2016 US presidential election as a way to connect and provide a platform for artists, writers and cultural producers and to raise funds for social and environmental justice groups that are made vulnerable under this administration. Now, three years in, Work Book, the third volume of The Tool Book Project, considers the future of institutional critique, direct social action, how our daily labor and leisure intersect with the ways we relate, resist, and create, and what can we glean from revisiting past Art and Labor movements.
In Work Book, Asha Canalos and Jeanette Hart-Mann's contribution: "A Censorship Timeline: Hey, It's Another State-sponsored Obfuscation in Cultural Real-Time" outlines an ongoing series of events in which zines that address social, health and environmental crises related to fracking in Chaco Canyon were censored by the New Mexico Museum of Art. Gina Goico's essay about her publicly engaged artwork "Pelliza: Labor and Communities" and Susan Briante's article about her poetry series "The Market Wonders: On the Impossibility of Personal Accounting," map the social and emotional effects of global capitalism on culture, community and individual lives. Jaimes Mayhew, an artist and educator, and Lamont Stanley Bryant, a community psychology graduate student, trace the confluences of their respective practices and their personal partnership in "Interdisciplinary Work in Relationships". The remaining thirteen contributors present a broad set of themes, ranging from domestic labor, union workers and the WPA to global textile production, cultural translation and inter-special relationships. Work Book continues on The Tool Book Project website (toolbookproject.org) with over 20 related contributions from a wide range of artists.
Aaron Wilder's "Core Values" project is included in the online version of Work Book. In contemporary capitalist society, marketing concepts saturate the fabric of daily life. "Core Values" is a series that seeks to explore the marketing-centricity of a major aspect of our day-to-day reality: employment. Whether a for-profit, a nonprofit, or a government agency, employers use marketing concepts in their aspirational core values statements. These statements are used in many ways, but play a key role in recruiting new employees. Core Values can paint a somewhat unrealistic portrait of what a typical employee's experience is supposed to be. Often, daily interactions with coworkers, supervisors, and clients can present communication that contradicts the employer's aspirational core value statements. "Core Values" interrogates the space between the employer's marketing efforts and the daily interactions in the workplace and asks the question: "What communications are most foundational in building a sense of reality for employees?"

The Tool Book Project is a semi-annual publication that showcases art, writing, dialogue and critical discourse from an international group of artists and cultural producers. It is also a platform for sharing resources via curated gallery shows, readings, roundtable discussions, and other public events. Sales from each publication are donated to specific social and environmental justice organizations, providing a mode of direct action for artists and writers to exchange ideas and affect positive social change. Work Book is the third iteration of the Tool Book Project.
Work Book was printed on a MZ790U 2-Color Risograph Printer by TXTbooks, an artist-run independent publishing initiative in Brooklyn, NY.